OK wayyyy back when this blog was just an idea , this was one of the ideas that set the wheels in motion for the blog. I present you you the $1.00 store bracers one for the flagship projects of Sixpence.....
So with the holidays over I decided to swing in and post up some pics of a project I am working on. I have been working on my Renaissance Klingon for a while.
So I decided I needed a pair of bracers, after looking around and seeing the cost I decided to see what I could do cheap. While I was looking at the $1.00 store and saw what was supposed to be a hand gauntlet for kids but I looked at in and a little brain storming I bought 2 sets of them (2 to a set). So after a little cutting and shaping, I sprayed them with a nice Gold paint I had and ended up with this: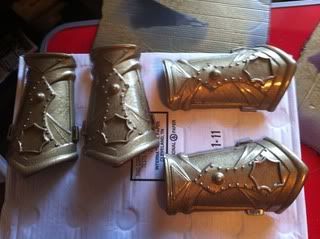 Got these painted and decided they needed a little more character so after me and my Girlfriend sat around and talked about it I decided to do some taping and ad some silver to them:
So now we have silver and decided to add a little bronze to them to help break up the colors (the color I used is called

Dwarf bronze

) :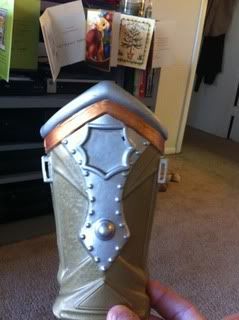 This is a great paint but the one problem it has is that it can take multiple coats to get the color coverage you want ( the above picture is just one coat of it) after a few another coat here is what we have now: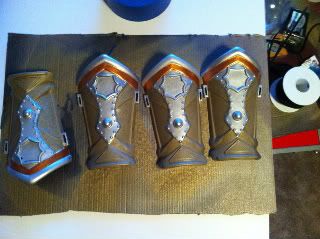 and what it looks like on my arm: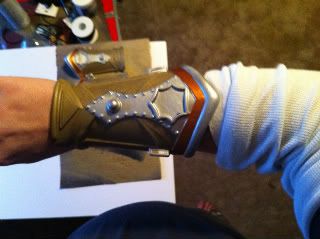 Since we bout 2 sets of them this is the idea we are going with:
Side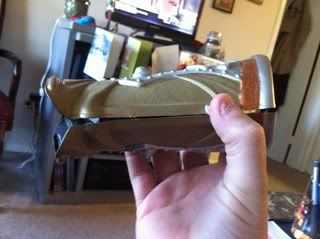 Front: wave hello to

Rudy

all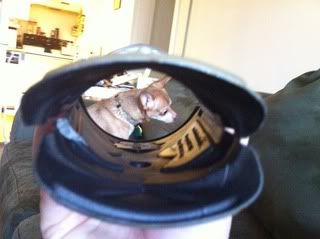 back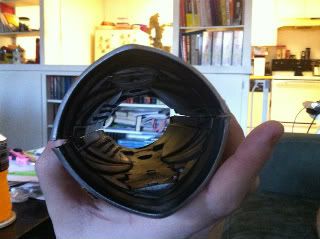 We are not 100% sure right now how we are going to mount them together and I know that we are going to be adding in some Maroon to the star design on the top. I will be posting some more updates as we get more done.